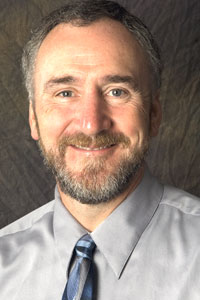 Robert E. W. Fyffe, Ph.D. (left),  has been named Vice President for Research and Graduate Studies at Wright State University effective February 6, 2012. He was the 2005 president of OMV-SfN. He holds a faculty appointment as professor of neuroscience, cell biology, and physiology at WSU.
He will replace Jack Bantle, Ph.D., who has retired.
"Dr. Fyffe has a proven record of administering programs that support research activities and will provide the leadership necessary to maintain our excellence in research, scholarship, and graduate programs," said Provost Steven Angle. "He will also be a strong advocate for the diverse constituencies involved in the university's research enterprise."
Fyffe was appointed associate dean for Research Affairs at the Boonshoft School of Medicine in April 2001. He was responsible for overseeing programs that supported the medical school's research activities in the basic and clinical sciences. Read more.